GENRE: Science
LENGTH: 3 x 57 minutes
EXECUTIVE PRODUCER: Paul Scott
PRODUCERS: Paul Scott, Isabel Perez, Todd Sampson
DIRECTOR: Jeff Siberry
BROADCASTERS: ABC1 Australia
COINVESTOR: Screen Australia
INTERNATIONAL PRESALES: Discovery Science USA,
INTERNATIONAL PRESALES: Discovery Networks International
DVD SALES: Universal Pictures
THE SERIES
In 2013, Todd Sampson put brain training to the test in the groundbreaking series Redesign My Brain. This unique, transformative and interactive experience ended up as one of the most watched Australian science documentary series of all time and won the 2014 Australian AACTA Award for Best Documentary. Todd will now continue this incredible journey in Redesign My Brain Series 2, this time to prove that the brain can be trained to meet the challenges of modern life. Once again, he will become a scientific guinea pig and use the very latest that brain science has to offer. It's an inspirational and unforgettable story that has something in it for everyone.
EPISODE 1 – HELP ME ADAPT
Todd will discover how to become more Adaptable. To prove that it is possible, he will be challenged to climb a 120-metre rock-face blindfolded!
EPISODE 2 – SHARPEN MY SENSES
Todd sets out to improve his Senses, sight, hearing and touch. To prove that his sensory perception has been enhanced, Todd will compete in a Safe-cracking competition.
EPISODE 3 – MAKE ME BRAVE
Todd will learn how to best Manage Fear. To demonstrate to all of us that it is possible to overcome fear, at the end of the series Todd will walk on a wire across two skyscrapers – a world first for someone new to wire walking.
To purchase the DVD
https://shop.abc.net.au/products/redesign-my-brain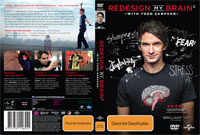 USEFUL LINKS